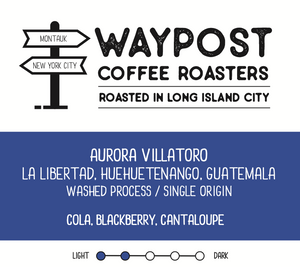 From our friends at Caravela:

'Aurora Josefina Villatoro runs Santa Cecilia, a 1.74-hectare farm in the municipali- ty of La Libertad in Huehuetenango. The farm was acquired years ago through inheritance. At the time of taking ownership of the farm, locals suggested that the best option would be to sell the land as she would struggle to manage it.
However, after listening to several opinions and analyzing the opportunity, Aurora decided to ignore the underlying sexism and take over the responsibility of farm management. Aurora knew she was a capable woman and could learn to manage the farm over time and so she started by planting small new plots. As the time went by, she achieved some great results, and this gave her more confiden- ce in herself and her decision to run the farm. As demand grew for her coffee, she gradually ended up planting the entire area with Bourbon and Caturra varieties.
Fast-forward to now, Aurora shares that her plans for the farm are focused on producing high-quality coffee. She has constant training and technical support so that the production for each harvest is always better than the previous year.'
Producer: Aurora Villatoro

La Libertad, Huehuetenango, Guatemala
Altitude: 1700 MASL
Process: Washed
Varietal: Bourbon and Caturra

Tasting Notes: Blackberry, Cola, Cantaloupe

Best Brewed As: Drip, Pourover, Espresso