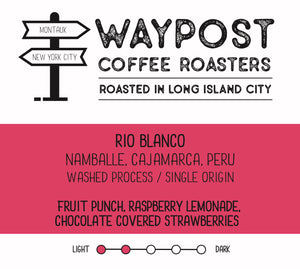 Producer: 17 smallholder farms

Namballe, Cajarmarcas, Peru
Altitude: 1600-1800 MASL
Process: Washed
Varietals: Bourbon, Caturra, Catimor
This might just be our favorite cup of the year and it will be coming to the menu by end of month! Up front, the fruit punch notes remind me of the old "How about a nice Hawaiian Punch?" commercial, with a refreshing raspberry lemonade note and a lingering chocolate covered strawberry. It's sweet, it's refreshing and it's bursting with tons of flavor.

Tasting Notes: Fruit Punch, Raspberry Lemonade, Chocolate Covered Strawberries
Best Brewed As: Drip, French Press, Pourover, Espresso
From our friends at Red Fox:

'Rio Blanco is a new producer group led by Ismael Alarcon and sixteen other coffee producers located along the banks of the Rio Blanco River in Tabaconas Namballe National Sanctuary. Ismael, who we previously worked with through Santuario, organized Rio Blanco focusing on helping smallholder producers get the best possible price for coffee through quality improvements. Several community projects have been implemented such as developing organic fertilizers utilizing local materials and empowering producers through offering land management practices. Long-term sustainability offers a path to long-term profitability for smallholders.
With high elevations, diverse microclimates, high-quality soil, and varieties of Caturra,
Bourbon, and Catimor, coffees from Rio Blanco offer notes of candied apple and tart cherry, deep honeyed sweetness, and florals. Ismael began his profession nearly twelve years ago and has been around coffee production his entire life. We are thrilled to work with Ismael and the producers of Namballe this season, offering the finest coffees of Cajamarca to all.'